Demands and Challenges of Publication of Scientific Writing for Arabic Language and Literature Students
Zaenal Abidin

Universitas Islam Negeri Alauddin Makassar

Khaerun Nisa Nuur

Universitas Islam Negeri Alauddin Makassar

Andi Satrianingsih

Universitas Muhammadiyah Makassar

Nur Arifin

Universitas Islam Negeri Datokarama Palu
Keywords:
Demands, Challenges, Scientific papers
Abstract
This study aims to describe the competence of Arabic Language and Literature students at Faculty of Adab and Humanities of UIN Alauddin in producing scientific papers by testing the effectiveness of demands and confirming the challenges faced. The focus of the objects and data sources of this study were students majoring in Arabic in semesters 5 and 7 who were found randomly or random sampling. Presentation of data is done descriptively. Data analysis and drawing conclusions are done inductively. The results of the research show that Arabic Language and Literature (BSA) students are not aware of the opportunities they have to conduct research and produce scientific papers (KTI). This has implications for the increasing challenges they face, because in addition to their inability to utilize a number of supporting facilities, they also lack research and writing experience. In fact, because the inability to seize opportunities makes them less motivated and weak in interest.
Abstrak
Penelitian ini bertujuan untuk mendeskripsikan kompetensi mahasiswa Bahasa dan Sastra Arab Fakultas Adab dan Humaniora UIN Alauddin dalam menghasilkan karya tulis ilmiah dengan menguji efektivitas tuntutan dan mengkonfirmasi tantangan yang dihadapi. Fokus objek dan sumber data penelitian ini ialah mahasiswa jurusan Bahasa Arab semester 5 dan 7 yang ditemukan secara acak atau random sampling. Penyajian data dilakukan secara deskriptif. Analisis data dan penarikan kesimpulan dilakukan secara induktif. Hasil penelitian menunjukkan kurang sadarnya mahasiswa Bahasa dan Sastra Arab (BSA) terhadap peluang yang mereka miliki untuk melakukan penelitian dan menghasilkan karya tulis ilmiah (KTI). Hal itu berimplikasi terhadap bertambahnya tantangan yang mereka hadapi, sebab di samping ketidakmampuan memanfaatkan sejumlah fasilitas pendukung, juga minimnya pengalaman meneliti dan menulis. Bahkan karena ketidakmampuan menangkap peluang menjadikan mereka kurang motivasi dan lemah minat.
References
Darmalaksana, W. (2021). Kebiijakan Publikasi Artikel Ilmiah Mahasiswa. IJoIS: Indonesian Journal of Islamic Studies, 2(2), 139–157.
Edaran: Publikasi Karya Ilmiah Program Sarjana, Program Magister, dan Program Doktor – Lembaga Layanan Pendidikan Tinggi Wilayah VIII. (n.d.). Retrieved February 1, 2022, from https://lldikti8.ristekdikti.go.id/2019/06/13/edaran-publikasi-karya-ilmiah-program-sarjana-program-magister-dan-program-doktor/
Hasyim, M. (2021). Fenomena Publikasi Ilmiah pada Komunitas Peneliti Muda di Jurusan Bahasa dan Sastra Arab, Fakultas Humaniora, UIN Maulana Malik Ibrahim Malang. PEMBELAJAR: Jurnal Ilmu Pendidikan, Keguruan, Dan Pembelajaran, 5(1). https://doi.org/10.26858/pembelajar.v5i1.15792
J.D.I.H. - Undang Undang Dasar 1945—Dewan Perwakilan Rakyat. (n.d.). Retrieved February 1, 2022, from https://www.dpr.go.id/jdih/uu1945
Julianto, V. (2019). Faktor-Faktor Penghambat Meningkatnya Kemampuan Publikasi di Program Studi Psikologi UIN Sunan Kalijaga Yogyakarta. Jurnal Psikologi Integratif, 6(2), 131. https://doi.org/10.14421/jpsi.v6i2.1525
Karya ilmiah—Wikipedia bahasa Indonesia, ensiklopedia bebas. (n.d.). Retrieved February 2, 2022, from https://id.wikipedia.org/wiki/Karya_ilmiah
KBBI Daring. (n.d.). Retrieved February 2, 2022, from https://kbbi.kemdikbud.go.id/entri/karya ilmiah
Napitupulu, D., & dkk. (2020). Menulis Artikel Ilmiah untuk Publikasi. Yayasan Kita Menulis.
Publikasi ilmiah—Wikipedia bahasa Indonesia, ensiklopedia bebas. (n.d.). Retrieved February 2, 2022, from https://id.wikipedia.org/wiki/Publikasi_ilmiah
Purwanto, A., Pramono, R., Bernarto, I., Asbari, M., Santoso, P. B., Saifuddin, M. P., Hyun, C. C., Wijayanti, L. M., Ong, F., & Kusumaningsih, W. (2020). Minat dan Hambatan Publikasi Artikel pada Jurnal Internasional Bereputasi: Studi Eksploratori pada Mahasiswa Doktoral di Sebuah Perguruan Tinggi Swasta di Jakarta. Edumaspul: Jurnal Pendidikan, 4(1), 219–228. https://doi.org/10.33487/edumaspul.v4i1.348
Ratnasari, G., & Nurislaminingsih, R. (2017). Pengaruh Kebijakan Publikasi Karya Ilmiah Di E-Journal Terhadap Peningkatan Motivasi Menulis Karya Ilmiah Mahasiswa Ilmu Perpustakaan Fakultas Ilmu Budaya Universitas Diponegoro Semarang Tahun 2009. Jurnal Ilmu Perpustakaan, 6(1), 201–210.
Retnowati, T. H., Mardapi, D., & Kartowagiran, B. (2018). Kinerja Dosen di Bidang Penelitian dan Publikasi Ilmiah. Jurnal Akuntabilitas Manajemen Pendidikan, 6(2), 215–225.
Siregar, A. Z., & Harahap, N. (2019). Strategi dan Teknik Penulisan Karya Tulis Ilmiah dan Publikasi. Deepublish.
Tingkat produktivitas penerbitan karya tulis ilmiah. (n.d.). Retrieved February 1, 2022, from https://journal.ipb.ac.id/index.php/jpi/article/view/37632/22245
Undang-Undang Republik Indonesia. (n.d.). Retrieved February 1, 2022, from https://jdih.setkab.go.id/PUUdoc/7308/UU0202003.htm
UU No. 20 Tahun 2003 tentang Sistem Pendidikan Nasional [JDIH BPK RI]. (n.d.). Retrieved February 1, 2022, from https://peraturan.bpk.go.id/Home/Details/43920/uu-no-20-tahun-2003
Yudhyarta, D. Y., Susanti, E., & Ilyas, M. (2021). Pelatihan Karya Tulis Ilmiah bagi Mahasiswa. ABDIMASY: Jurnal Pengabdian Dan Pemberdayaan Masyarakat P-ISSN: 2745-7400 │E- ISSN: 2745-7419 Vol., 2(1), 1–10.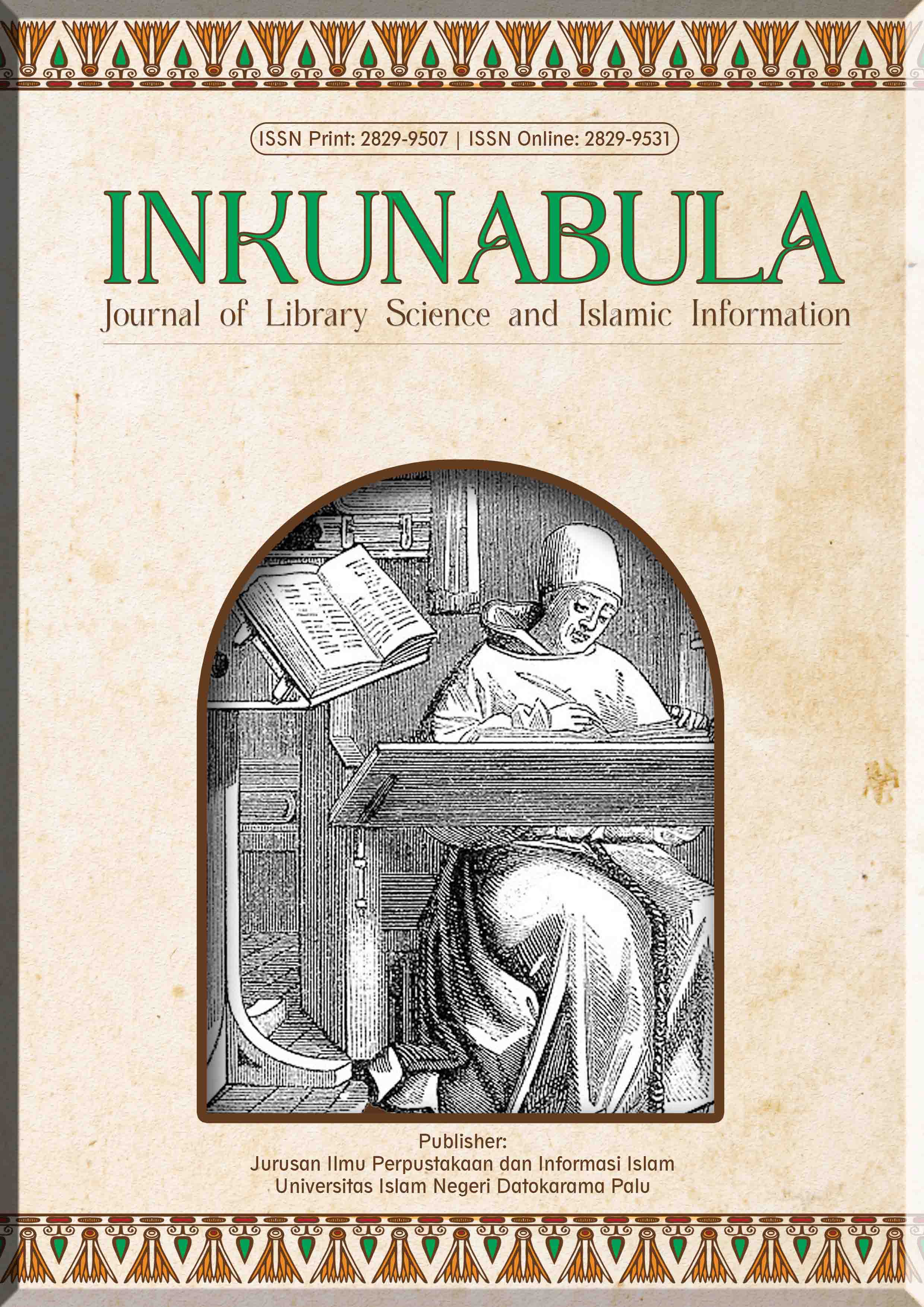 How to Cite
Abidin, Z., Nuur, K. N., Satrianingsih, A., & Arifin, N. (2022). Demands and Challenges of Publication of Scientific Writing for Arabic Language and Literature Students. Inkunabula: Journal of Library Science and Islamic Information, 1(2), 65-74. https://doi.org/10.24239/ikn.v1i2.1343
Copyright (c) 2022 Zaenal Abidin, Khaerun Nisa Nuur, Andi Satrianingsih, Nur Arifin
This work is licensed under a Creative Commons Attribution-NonCommercial-ShareAlike 4.0 International License.
Once the article was published in the journal, the author(s) are:
granted to the journal right licensed under Creative Commons License Attribution that allows others to share the work with an acknowledgement of the work's authorship.
permitted to publish their work online in third parties as it can lead wider dissemination of the work.
continue to be the copyright owner and allow the journal to publish the article with the CC BY-NC-SA license
receiving a DOI (Digital Object Identifier) of the work