Inovasi dalam Meningkatkan Minat Baca di TBM Kedai Baca Sipakainga Makassar
Nasrullah

Universitas Islam Negeri Alauddin Makassar

https://orcid.org/0000-0001-8744-295X

Nur Arifin

Universitas Islam Negeri Datokarama Palu

Fatri Ardiansyah

Universitas Muhammadiyah Sinjai
Keywords:
Inovasi, Minat baca, TBM Kedai Baca Sipakainga
Abstract
The objective of this research is to determine how the existence of reading shops is one of the innovations in the reading community, as well as the perceived benefits of reading shops. The research method employed in this study is descriptive research with qualitative methods. The procedure of gathering data through a series of activities ranging from observations or surveys to the conduct of interviews. The findings indicate that Kedai Baca Sipakainga still exists among the community, with the aim of visiting the reading shop, as well as a place to gather and enjoy coffee, read accessible reading books, or look for reference materials. The benefits that visitors and owners can derive include increased interest in the visit, which benefits the manager including additional income, while the visitors perceive an escalating intention of reading due to the presence of books in the reading stalls.
Abstrak
Tujuan  dilakukannya  penelitian  ini  adalah  untuk  mengetahui  bagaimana eksistensi kedai baca sebagai  salah  satu  inovasi  minat  baca  di  kalangan masyarakat  dan  juga  untuk  mengetahui manfaat kedai baca yang dirasakan. Jenis penelitian yang digunakan dalam penelitin ini adalah penelitian deskriptif menggunakan metode kualitatif. Metode pengmpulan data dengan melakukan serangkaian kegiatan mulai dari observasi atau pengamatan, sampai kepada pelaksanaan wawancara. Hasil  penelitian  menunjukan  bahwa kedai baca sipakainga masih  tetap  eksis  di  kalangan  masyarakat dengan tujuan berkunjung ke kedai baca yakni sebagai tempat berkumpul atau nongkrong, menikmati hidangan kopi, membaca buku bacaan yang tersedia dan mencari buku referensi tugas.  Manfaat  yang  dapat  diperoleh pengunjung dan pemilik yakni meningkatkan minat kunjung yang tentu memberikan manfaat kepada pengelola terutama pemasukan atau bertambahnya pendapatan sedangkan manfaat yang dirasakan pengunjung yakni dapat meningkatkan minat baca dengan kehadiran buku-buku di kedai baca sipakainga.
References
Ardianto. (2009). Motivasi Orang Berkumpul di Coffee Shop Sebuah Studi Deskriptif. Yogyakarta: Universitas Sanata Dharma.
Benawi, I. (2012). Perpustakaan Kafe dan Warkop adalah Sebuah Perpustakaan Inovasi Masa Kini. Jurnal Iqra', 6 (02): hal. 14.
Haryanto, A. (2017). Tirto.id. Terdapat pada Najwa Paparkan Data Soal Rendahnya Minat Baca Indonesia: https://tirto.id/najwa-paparkan-data-soal-rendahnya-minat-baca-indonesia-cupM. Diakses 26 April 2022.
Haryanti, T. (2010). Librarian. Terdapat pada Inovasi Pengembangan dan Pemberdayaan Perpustakaan Masyarakat:http://www.triniharyanti.id/2010/04/inovasi-engembangan-dan-pemberdayaan.html?m=1.Diakses 26 April 2022.
Masiani, K. (2016). Perpustakaan Kafe: Konsep Unik Sebagai Usaha Peningkatan Minat Baca dan Interaksi Sosil. Jurnal Pari, 2 (2):hal.99.
Nadir, M. (2018, Maret 26). Kompas. com. Terdapat pada Per Hari, Rata-rata Orang Indonesia Hanya Baca Buku Kurang dari Sejam:https://nasioanl.kompas.com/read/2018/03/26/14432641/per-hari-rata-rata-orang-indonesia-hanya-baca-buku-kurang-dari-sejam. Diakses 26 April 2022.
Nafisah, A. (2014). Arti Penting Perpustakaan Bagi Upaya Peningkatan Minat Baca Masyarakat .Libraria, 2 (2): hal. 72-74.
Siahaan, S. (2007). Strategi Meningkatkan Minat Baca. Jurnal Teknodik, XI (22):hal. 168.
Srimulyo, K., & Prasyesti, M. (2017). Komodifikasi Perpustakaan Kafe Sebagai Dampak Perubahan Gaya Hidup Urban. Visi Pustaka, 19 (2) 2 : hal. 153-160.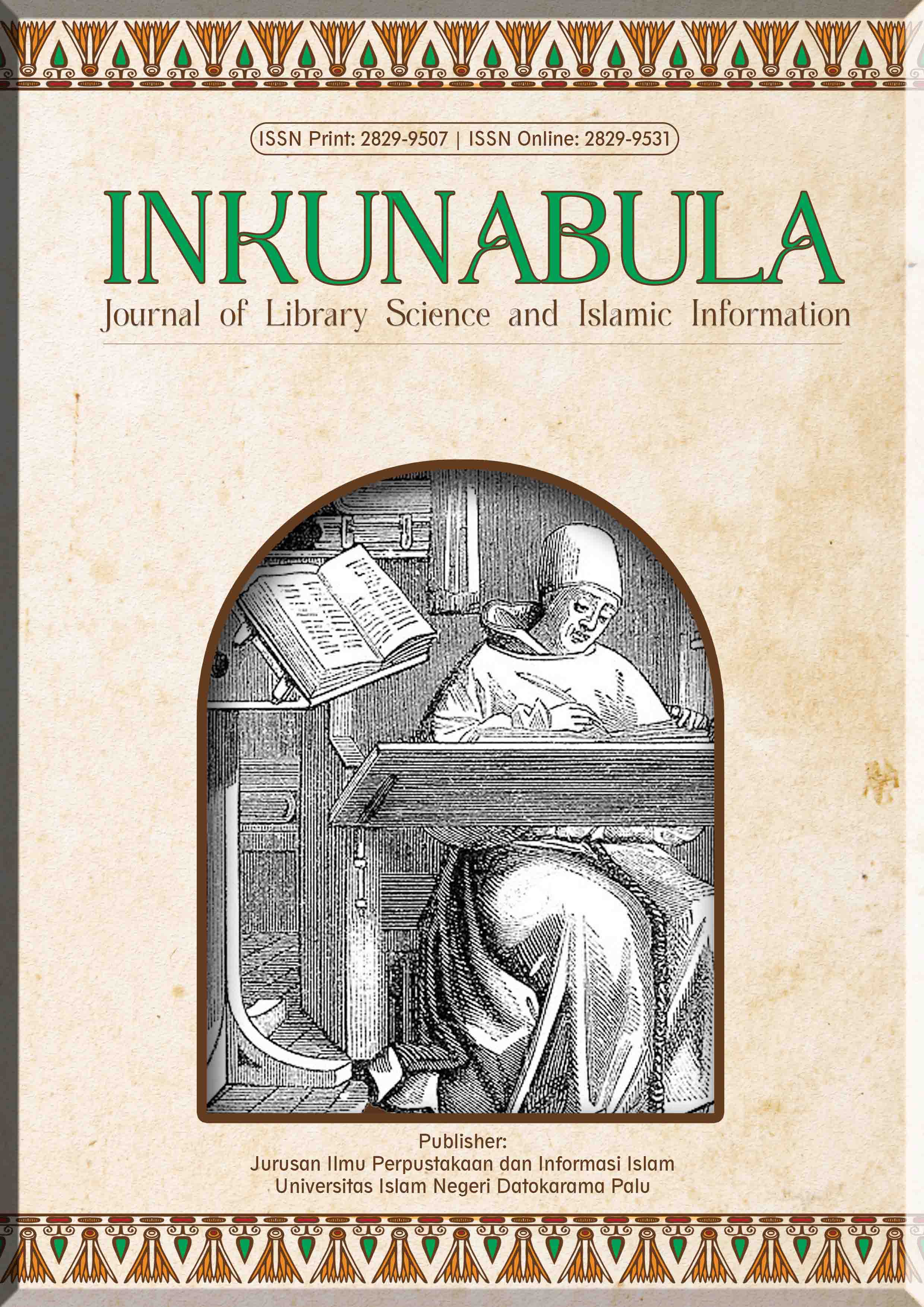 How to Cite
Nasrullah, N., Arifin, N., & Ardiansyah, F. (2022). Inovasi dalam Meningkatkan Minat Baca di TBM Kedai Baca Sipakainga Makassar. Inkunabula: Journal of Library Science and Islamic Information, 1(2), 53-58. https://doi.org/10.24239/ikn.v1i2.1147
Copyright (c) 2022 Nasrullah, Nur Arifin, Fatri Ardiansyah
This work is licensed under a Creative Commons Attribution-NonCommercial-ShareAlike 4.0 International License.
Once the article was published in the journal, the author(s) are:
granted to the journal right licensed under Creative Commons License Attribution that allows others to share the work with an acknowledgement of the work's authorship.
permitted to publish their work online in third parties as it can lead wider dissemination of the work.
continue to be the copyright owner and allow the journal to publish the article with the CC BY-NC-SA license
receiving a DOI (Digital Object Identifier) of the work