TELAAH KRITIS ATAS RELASI AGAMA DAN BUDAYA PATRIARKI
(Studi Epistemologis Gender)
Moh. Muhtador

Institu Agama Islam Negeri (IAIN) Kudus

Fikri Hamdani

Universitas Islam Negeri (UIN) Datokarama Palu
Keywords:
Kritik, Gender, Agama, dan Budaya Patriarki
Abstract
This paper is a critical study of the discourse on religion and patriarchal culture. The development of religious patriarchism results from the interpretation of spiritual teachings that have the impression of a gender bias; the gender bias interpretation model is one of the relationships that shows the interaction of patriarchal culture with religion. Disclosure of the relationship between religion and patriarchism to understand the boundaries of what is called religion and interpretation and other elements in the meaning of religion. This paper is library research that relies on literature data related to gender and religion by using the theory of gender criticism to find answers to religious alliances and patriarchism. This paper shows that epistemologically, a series of meanings related to women's lives is interpreted textually. The meanings that are born are motivated by elements of male culture. There is a patriarchal ideology that is still strong in the body of a religious community that interprets the meaning of religion as religion.
References
Abdullah, Amin. Studi Agama, Normativitas dan Historisitas? Yogyakarta: Pustaka Pelajar, 1996.
Abu Zayd, Nashr Hamid. Menalar Firman Tuhan Wacana Majas dalam al-Qur'ān Menurut Mu'tazilah, terj. Abdurrahman Kasdi dan Hamka, Bandung: Mizan, 2003.
Adam Mustakim, "Epistemologi Penafsiran Kepemimpinan Politik Perempuan dalam Islam (Studi Komparasi)", Rausyan Fikr: Jurnal Studi Ilmu Ushuluddin dan Filsafat, Vol. 14 No. 2, 2018, 295 – 334.
Amin, Qasim. Sejarah Penindasan Perempuan, terj. Syaiful Alam, Yogyakarta: IRCiSod, 2003.
Barlas, Asma. Believing Women in islam: Unreading Patriarchal Interpretations of Qur'an, Austin: University of Texas Press, 2004.
Darlis Darlis, "Feminisme Qur'ani: Tafsir Ayat Wanita Karir", Musawa: Journal for Gender Studies, Vol. 7 No. 2, 2015, 183 – 206.
Fadl, Khaled M. Abou el- Melawan Tentara Tuhan, yang Berwenang dan yang Sewenang-wenang dalam Wacana Islam, terj. Kurniawana Abdullah, Jakarta: Seramabi Ilmu Semesta,2003.
_______, Atas Nama Tuhan, terj. Cecep Lukman Yasin, Jakarta: Serambi Ilmu Semesta, 2001.
Fudhaili, Ahmad. Perempuan di Lembaran Suci Kritik atas Hadis Shahih, Yogyakarta: Nuansa Aksara. 2012.
Gadamer, Hans-Georg. Truth and Method, London: Continuum, 1989.
Hasan, Riffat. "Setara dihadapan Tuhan," Isu Kesetaraan Laki-laki Perempuan dalam Tradisi Islam, terj. Team LSPPA (ed), Yogyakarta: 1995
_______, Setara dihadapan Tuhan," Jihad fi sabilillah, terj. Team LSPPA (ed), Yogyakarta: 1995.
Hasyim, Syafiq. Bebas dari Patriarkhisme Islam, Depok: Katakita, 2010.
Ismai, Muhammad Syuhudi. Hadis Nabi yang Tekstual dan Kontekstual; Telaah Ma'anil Hadis tentang Ajaran Islam yang Universal, Temporal, dan Lokal, cet. ke-1, Jakarta: Bulan Bintang, 1994.
Ja'far, Abu al-Fajr Abdurrahman ibn Ali ibn Ubaidillah ibn Hammad ibn Ahmad ibn. Ahkam al-Nisa' (t.t: t.tp, t.th)
Mernissi, Fatimah. Wanita di dalam Islam, terj. Yaziar Radianti, Bandung: Pustaka, 1991.
Muhammad Patri Arifin, "Penafsiran Kontekstual Kesaksian Perempuan", Musawa: Jurnal for Gender Studies, Vol. 9 No. 1, 2017, 105 – 128.
Rohmaniyah, Inayah. Konstruksi Patriarki dalam Tafsir Agama Sebuah Jalan Panjang, Yogyakarta: Fakultas Ushuluddin dan Pemikiran Islam kerjasama Pustaka Indonesia, 2014.
Ubay Harun, "Konsep Feminisme Perspektif Amina Wadud", Rausyan Fikr: Jurnal Studi Ilmu Ushuluddin dan Filsafat, Vol. 17 No. 1, 2021, 75 – 89.
Umar, Nasaruddin. Argumen Kesetaraan Gender Perspektif Al-Qur'ān, cet ke-1, Jakarta: Paramadian, 2001.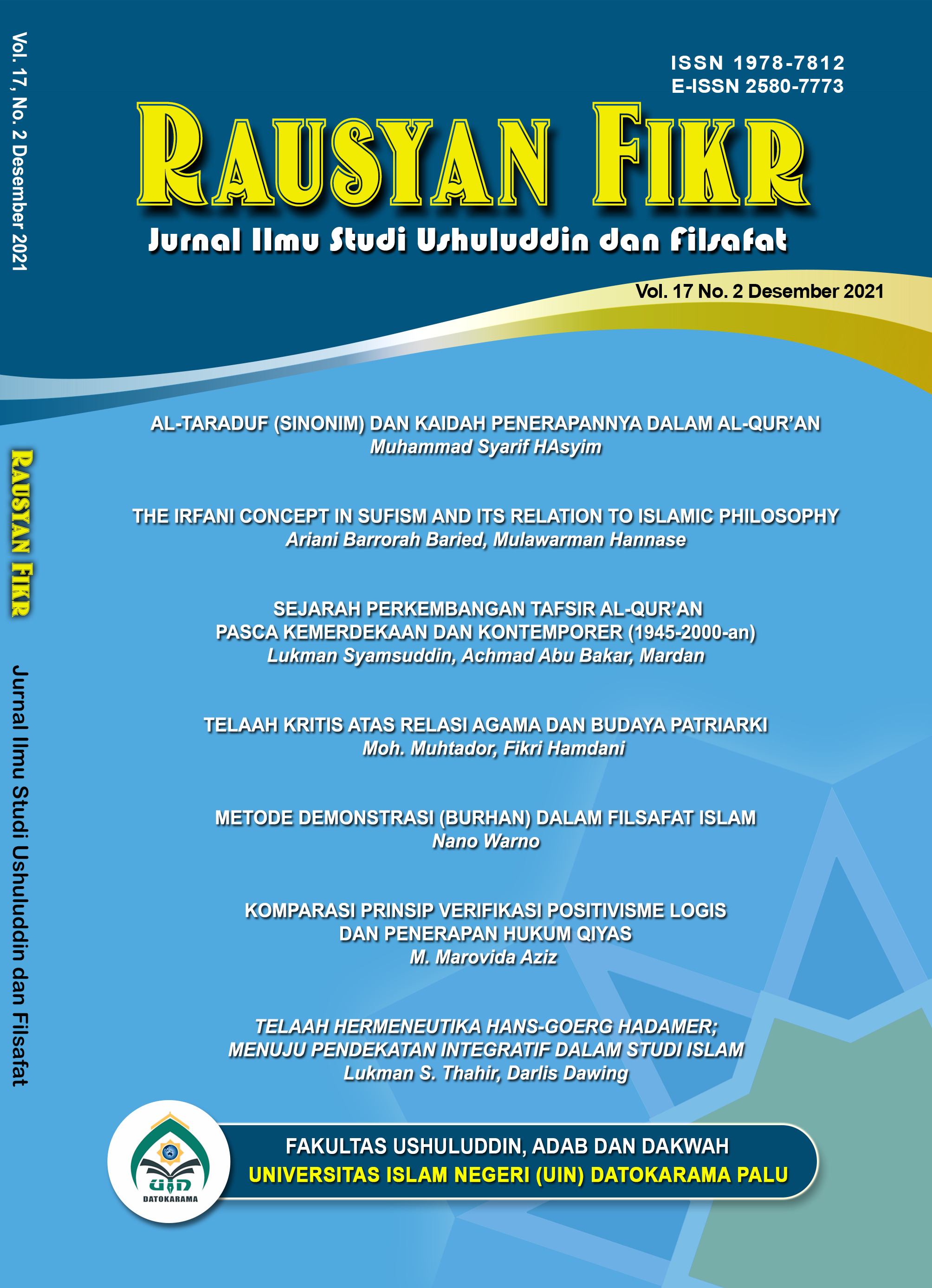 How to Cite

Moh. Muhtador, & Fikri Hamdani. (2021). TELAAH KRITIS ATAS RELASI AGAMA DAN BUDAYA PATRIARKI : (Studi Epistemologis Gender). Rausyan Fikr: Jurnal Ilmu Studi Ushuluddin Dan Filsafat, 17(2), 277 - 295. https://doi.org/10.24239/rsy.v17i2.800

Abstract - 82