METODE DEMONSTRASI (BURHAN) DALAM FILSAFAT ISLAM
Nano Warno

Sekolah Tinggi Agama Islam (STAI) Sadra
Keywords:
Metode, Demonstrasi (burhan), Filsafat Islam.
Abstract
This paper aims to analyze Islamic philosophy's demonstration (burha>n). Demonstration (burha>n) is the method of all schools of Islamic philosophy from Peripatetic, Illumination to Wisdom Muta'aliyah. Without demonstration (burha>n), philosophy is no more extended philosophy and turns to the debate of theologians. The consistent peripatetic Islamic philosophy maintains this method of discovering (context of discovery) the propositions discussed in Islamic philosophy. Illumination philosophy then adds an intuitive approach. The Muta'aliyah Hikmah school also added another source: the Koran and witnessing (kasyaf). The purpose of the study is to describe the function of Burhan to epistemology and spirituality by using the general hermeneutic to the primary and secondary literature of Islamic philosophy books, especially the corpus of the Hikmah Muta'aliyah and neo peripatetic schools. The research framework is the position of reason, and the laws of thought are called logic, and the purpose of logic is an argument; analogy, syllogism, and induction. burha>n is a particular syllogism. The conclusion of the demonstration (burha>n) contains three layers of structure; foundations, problems, and subjects, and requires a foundation developed from various sciences. 
References
Al-Ghazali, "Tahafut Al-Falasifah (Incoherence of the Philosophers)." Bandung: Marja, 2000
Amin, Muhammad Abdullah. "Religion science and culture: An integratd interconnected paradigm of Science", Jurnal al-Jamiah Journal of Islamic Studies vol. 52, Yogyakarta, State Islamic UIN Sunan Kalijaga, 2014.
Amin, Mehdi Razavi. "Suhrawardi-and-the-School-of-Illumination", london: curzon sufi series, n.d.
F, Farshad saniee. "Epistemology In Classical Islamic Thought" Redaksi Markaz Baina Milal, h.18, Qom: University al-Musthafa International.
Firdaus, Jemil. "Kritik Terhadap Logika Aristoteles (Study Comparative dan Francis Bacon)" Jurnal UIN Kalijaga, h.7, Kalijaga: UIN, 2014.
Hasyimi, "Epistemologi Islam (Bayani, Burhani dan Irfani)" , Jurnal al-Murabbi, vol.3 Pasuruan: Universitas Yudharta, 2018.
Hamid, Mohammed Abu Al-Ghazali. "Tahafut Al-Falasifah (Incoherence of the Philosophers)", Pakistan: Philosophical Congres, 1963,
Hossein, Abdol Khosropanah. "Philosophy of Islamic Philosophy , h.172, Teheran: Sazman Intisharat, 1345.
Ilham, Muhammad Usman. "Menerka Pemikiran Ibnu Taymiyah, Kritik Terhadap Filsafat dan Tasawuf", Jurnal Rausyan Fikr, Vol. 16, Palu: Iain, 2020.
Inati, Sham. "Ibn Sina in Ensiklopedia Tematis Filsafat Islam Buku Pertama", Jakarta: Mizan, 2003.
Imam Gazali, Mi'yar Ilm", Beirut: Darul Kitab, 1990.
_______, "Mi'yar Al-'Ilm Fi Fan Al-Mantiq (Criterion of Knowledge in the Art of Logic) Solayman Donya.Pdf", Mesir: Darul Ma'arif, 1961.
Ibn Sina, "Remark and Admonition", ed. shams constantine Innati, pontifica institie of medieval studies, 1984.
______, "Mantiq Masyriqiyyah" , Cairo: Cairo Salafi Press, 1328.
Irving, Copy M. and Carl Cohen, "Introduction to Logic" , New York: Macmillan Publishing Company, n.d.
Kalin, Ibrahim. "Mulla Sadra and Metaphysics: Modulation of Being", Iran: Iranian Studies, 2010.
Katibi, Najmudin Qazwini. "Syarah Risaah Syamsiyah, ed. sayydi syarif Jurjani", Qom Iran: bidar.
Mas'ud, Badran. "Dawr al-Gazali fi Tarsikh al-Ittijah an-Naqd lil Falsafah al-Masyaiyah fi al-Fikr Islami", Jurnal al-Fikr lil Islami al-Muashir, 2018.
Makiah, Zulpa. "Epistemologi Bayani, Burhani, dan Irfani dalam memperoleh pengetahuan tentang mashlahah", Jurnal Syariah : Jurnal Hukum dan Pemikiran.
Mangini, Michele. "Rationality adn Ethichs between western and Islamic Tradition", Jurnal Religion, Italy: Departemen of Law, University of Bary, 2018.
Misbah, Taqi Yazdi. "Kitab Filsafat Pendekatan Komparatif Filsafat Islam" ed. Ammar Fauzi Jakarta: Sadra Press, 2021.
Misbah, Muhammad Yazdi Taqi. "Syarah Burhan Syifa" ed. Muhsin Garawiyan, 1st–2nd ed. Qom iran: markaz intisharat muasasah amuzesyi wa pezuhesi imam khomeini, 1384.
Muhammad Patri Arifin, "Hermeneutika Fenomenologis Hasan Hanafi", Rausyan Fikr: Jurnal Studi Ilmu Ushuluddin dan Filsafat, Vol. 13 No. 1, 2017, 1 – 26.
Putra, Eka Wiman. "The Fallacies of Harun Nasution's Thought of Theologi", Journal of Indonesian Islam, vol. 7 no.2, Jogjakarta: Universitas Islam Negeri Sunan Ample, 2013.
Qunawi, "Ijaz Al-Bayan", Qum : BustanKetab, 1378
Qazwini, "Syarah Risaah Syamsiyah.
Roswantoro, Alim dkk. "Islam, Agama-Agama, Dan Nilai Kemanusiaan" Jogjakarta: 2013.
Rayan, Sobhi. "Criticism of Ibn Taymiyyah on The Aristotelian Proposition", Jurnal Islamic Studies, h.69, Islamabad: Research Institute Internasional Islamic University, 2012.
Reza, Muhammad. "Khalaqiyat Nafs Wa Waqi Nama," Falsafeh 8, 2019.
Safi, Louay. "The foundation of knowledge A Comparative study in islamic and western methods of inquiry" Malaysia: International Islamic University Malayszia and internasional Institute of Islamic Thought.
Suhrawardi, "Mushanafat Syaikh Ishraq, diedit oleh Henri Corbin", Teheran : Riset ilmu-ilmu sosial, 1381.
Sadra, Mulla. " Prolegomenon to the Mafatih Al-Ghayb", vol. 9, 2017.
_______, "Key of Unseen" , Qom: Dar 2002.
_______, "Al- Hikmah Al-Muta'aliyah Fi Al Asfar Al-'aqliyah Al-Arba'ah" 2nd ed. Beirut: Dar ihya turats.
_______, "Al-Hikmah Al-Muta'aliyah Fi Al-Asfar Al-'aqliyah 3", Qom : Dar Ihya Turats.
_______, "Tafsir Al-Quran", Qom iran.
_______, "Al-Hikmah Al-Muta'liyah Fi Al-Asfar Al-'aqliyah Al-Arba'ah" , Beirut: Darul fikri, 2002.
_______, "Al-Hikmah Al-Muta'aliyah Fi Al-Asfar Al'aqliyah Al-'arba'ah 5" , Beirut: Dar ihya turats, 2002.
Thabathaba'i, Allamah. "شرح رسالة البرهان ،" , Qom Iran: Markaze Bayn Milal wa Tarjamah, 1397.
Vazir, Amin A.K. "Formal Logic for the Islamic knowledge", Jurnal The Islamic Culture, Pakistan, 2018. http://journal.uin-alauddin.ac.id/index.php/jpk/article/view/14414 , Accessed 6 Januari 2022.
Yazdan, Yadullah. "Mabani Wa Ushul Irfan Nazari " Qom Iran: Imam Khomeini Research Publisher, 1388.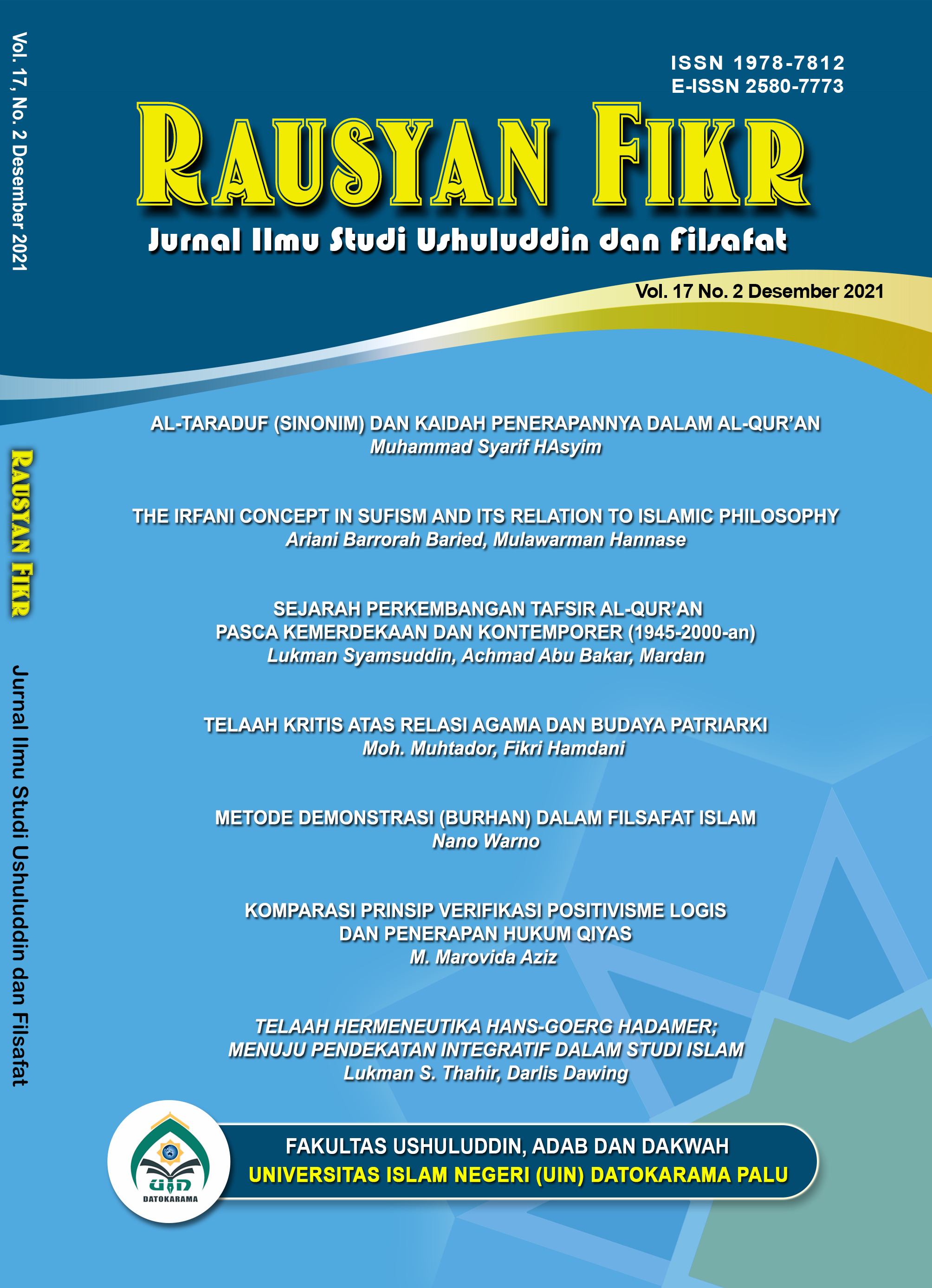 How to Cite

Nano Warno. (2022). METODE DEMONSTRASI (BURHAN) DALAM FILSAFAT ISLAM. Rausyan Fikr: Jurnal Ilmu Studi Ushuluddin Dan Filsafat, 17(2), 311 - 344. https://doi.org/10.24239/rsy.v17i2.788

Abstract - 106