RELIGIOUS PLURALITY AND THE URGENCY OF INTERCULTURAL COMMUNICATION IN INDONESIA
Muhammad Thahir

Institut Agama Islam Negeri (IAIN) Sultan Amai Gorontalo
Keywords:
Religious plurality; Cross-cultural communication; Communication; Culture
Abstract
This article elucidates the crucial significance of cross-cultural communication in the context of religious diversity. Religious diversity is an established reality that can be attributed to the genesis of each religious tradition in a multicultural milieu. Inadequate handling of the diverse array of global religions may give rise to potential issues of instability and disharmony among heterogeneous religious communities. This article examines plausible behavioral trends that may be employed to foster amity and collective unity among religious groups that possess inherent diversity. The present article utilizes Luc Reychler's indicator formula as a novel methodology for addressing issues. As mentioned earlier, the indicators encompass a diverse range of components deemed essential for promoting peaceful outcomes. The variables mentioned above include but are not limited to, efficient communication methods, a robust conflict resolution mechanism, a conducive environment for integration (also known as bridging social capital), a sufficient number of leaders who prioritize peace, and unbiased frameworks.
References
Basyuni, M. Maftuh. Kebijakan dan Strategi Kerukunan Umat Beragama. Jakarta: Badan Litbang dan Diklat, 2008.
Brian Fay, Contemporary Philosophy of Social Science (Oxford: Blackwell Publisher, 1996), p. 9
Casanova, Jose. Public Religion in the Modern World. Chicago: The University of Chicago Press, 1994.
Dean, Thomas. Ed. Religious Pluralism and Truth Essays on Cross-Cultural Philosophy of Religion. (State University of New York, 1985.
Efendi, Johan. dalam Syaiful Hamali, 'Konflik Dan Keraguan Individu Dalam Perspektif Psikologi Agama', Al-Adyan: Jurnal Studi Lintas Agama, 8.1 (2013).
Hick, John. Problem of Religious Pluralism. London: The Macmillan Press, 1985.
Kahmat, Dadang. Sosiologi Agama, Potret Agama dalam Dinamika Konflik, Pluralisme, dan Modernitas. Cet. I, Bandung: Pustaka Setia, 2011.
Notingham, Elizabeth K. Agama dan Masyarakat. Terjemahan A. Muis Naharong. Jakarta: Rajawali Press, 1985.
Muksin, Asep, "Menuju Harmoni dalam Keragaman Perspektif Al-Qur'an" Rausyan Fikr: Jurnal Ilmu Studi Ushuluddin dan Filsafat, Vol. 18 No. 2 Desember (2022), 247-272. https://jurnal.uindatokarama.ac.id/index.php/rsy/article/view/1079
Reychler, Luc. Challenges of Peace Reasearch, dalam Nurkholik Affandi, Harmoni Dalam Keragaman (Sebuah Analisis Tentang Konstruksi Perdamaian Antar Umat Beragama), Lentera Jurnal Vol: XV No. 1, Juni 2012.
Tracy, Plurality and Ambiguity, Hermeneutic, Religion, Hope. University of Chicago Press, 1987.
Ayuna, Novianty Elisabeth. "Peran Komunikasi Dalam Proses Akulturasi Sistem Sosial Lokal." Technomedia Journal 8, no. 1 (2023): 35–51.
Bauto, Laode Monto. "Perspektif Agama dan Kebudayaan dalam Kehidupan Masyarakat Indonesia (Suatu Tinjauan Sosiologi Agama)." Jurnal Pendidikan Ilmu Sosial Vol. 23, no. No. 2 (April 7, 2016): 3–15. https://doi.org/10.17509/jpis.v23i2.1616.
Retno Pandan Arum Kusumowardhani. "Identitas Sosial, Fundamentalisme, Dan Prasangka Terhadap Pemeluk Agama Yang Berbeda: Perspektif Psikologis." In Harmoni, Jurnal Multikultural & Multireligius, 12:18–29, 2013.
Hamali, Syaiful. "Konflik Dan Keraguan Individu Dalam Perspektif Psikologi Agama." Al-Adyan: Jurnal Studi Lintas Agama 8, no. 1 (2013): 27–44.
Schmidt-Leukel, Perry. "Religious Pluralism and Critical Realism." In John Hick's Religious Pluralism in Global Perspective, 67–89. Springer International Publishing, 2023.
Truna, Doddy S. "Islam and Religious Pluralism in Indonesia." Jurnal Iman Dan Spiritualitas 2, no. 2 (2022): 225-232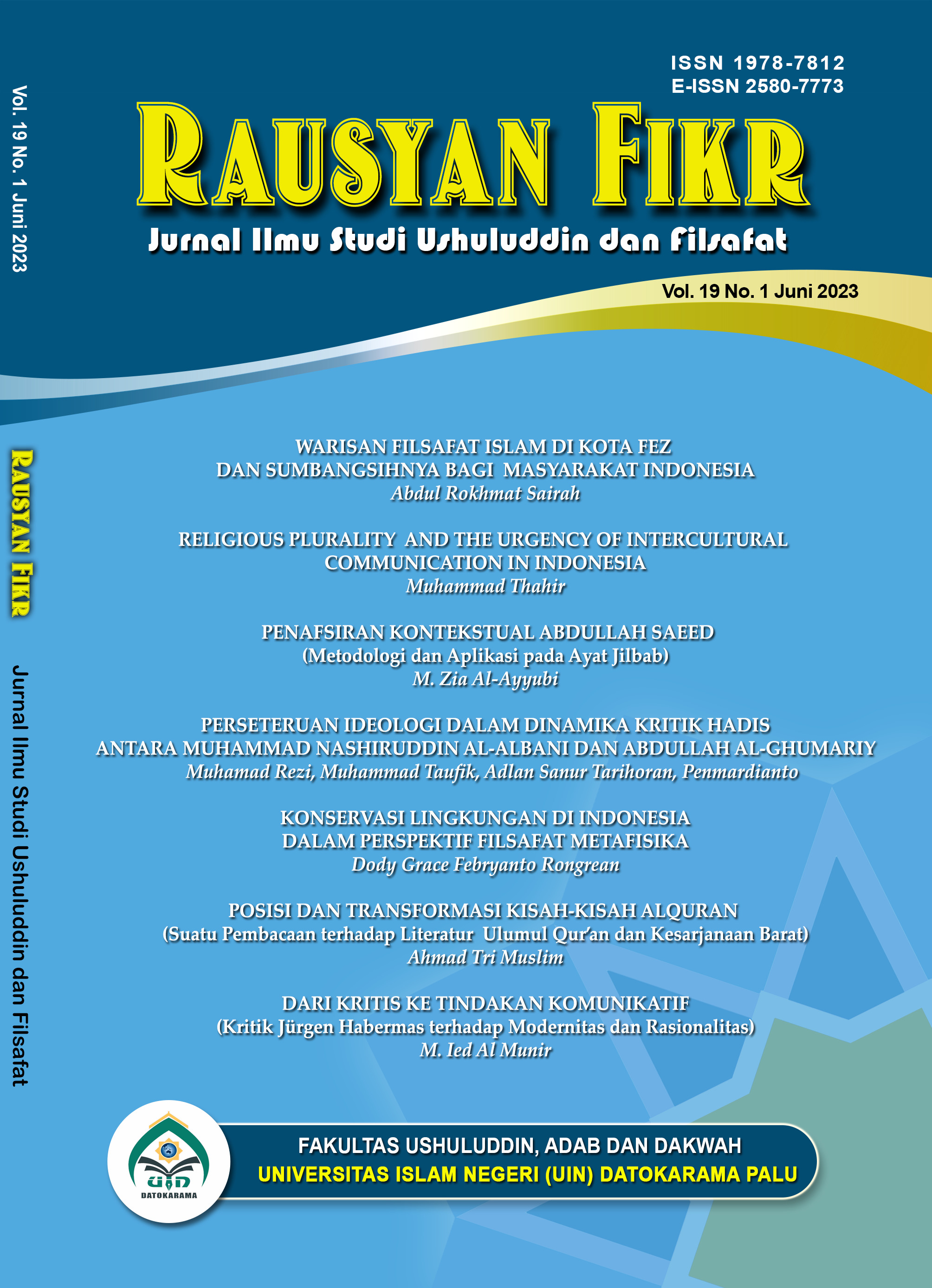 How to Cite

Thahir, M. (2023). RELIGIOUS PLURALITY AND THE URGENCY OF INTERCULTURAL COMMUNICATION IN INDONESIA. Rausyan Fikr: Jurnal Ilmu Studi Ushuluddin Dan Filsafat, 19(1), 37 - 51. https://doi.org/10.24239/rsy.v19i1.1905

Abstract - 91