DARI KRITIS KE TINDAKAN KOMUNIKATIF
(Kritik Jürgen Habermas terhadap Modernitas dan Rasionalitas)
M. Ied Al Munir

Universitas Islam Negeri (UIN) Sulthan Thaha Saifuddin Jambi
Keywords:
Capitalism, Modernity, Rationality, The Critical Theory, The Theory of Communicative Action.
Abstract
Jürgen Habermas's Theory of Communicative Action is important to respond to modernity, rationality, and capitalism. This theory departs from the refinement of the Critical Theory stagnation promoted by the Frankfurt School's first generation with the characters Max Horkheimer, Theodor Adorno, and Herbert Marcuse. Therefore, this study aims to describe the efforts that have been made by Habermas, both to find the cause of the stagnation of the Critical Theory and to improve it. This research is qualitative research with a literature background so data collection is done by reading the works of Habermas and other related works. Data analysis of the collected data was carried out using historical and interpretation methods. This study found that the Critical Theory proposed by Horkheimer, Adorno, and Marcuse stagnated because they interpreted rationality as instrumental rationality. Meanwhile, Habermas's refinement of Critical Theory led to the formation of the Critical Theory in a modified form, namely the Theory of Communicative Action. In this case, Habermas' Theory of Communicative Action provides a solution in the form of additional elements of communication for the Critical Theory and sees rationality as communicative rationality that allows interaction between subjects in social life.
References
Amaelinda, Azkiatul Afia, and Ahmad Zahid. "Tindakan Komunikatif Pada Sistem Bahtsul Matsail Di Pondok Pesantren al Amin Rejomulyo Kota Kediri." Sosiologi Reflektif 13, no. 2 (2019): 277–92.
Atabik, Ahmad. "Memahami Konsep Hermeneutika Kritis Habermas." Fikrah I, no. 2 (2013): 449–64.
Bertens, K. Filsafat Barat Kontemporer: Inggris-Jerman. Jakarta: PT Gramedia Pustaka Utama, 2002.
Donatus, Sermada Kelen. "Teori Kritis Dan Relevansinya Untuk Pengkajian Terhadap Realitas Sosial Bangsa Indonesia." Jurnal Ledalero 14, no. 1 (2015): 159. https://doi.org/10.31385/jl.v14i1.11.159-181.
Edgar, Andrew. Habermas: The Key Concepts. Habermas: The Key Concepts, 2006. https://doi.org/10.4324/9780203608715.
Fitriyah, Neka, Sarwititi Sarwoprasodjo, Sofyan Sjaf, and Endriatmo Soetarto. "Interaksi Politik Jawara Dalam Pembangunan Perspektif Tindakan Komunikatif." Warta ISKI 2, no. 02 (2019): 104–16. https://doi.org/10.25008/wartaiski.v2i02.40.
Habermas, Jürgen. The Theory of Communicative Action Volume 2 Lifeworld and System: A Critique of Functionalist Reason. Boston: Beacon Press, 1987.
Hardiman, F. Budi. Filsafat Fragmentaris. Yogyakarta: Kanisius, 2007.
_______. Menuju Masyarakat Komunikatif. Yogyakarta: Kanisius, 1993.
_______. Seni Memahami: Hermeneutik Dari Schleiermacher Sampai Derrida. Yogyakarta: PT Kanisius, 2015.
Harnowo, Tri. "Penerapan Teori Diskursus Habermas Sebagai Alternatif Penyelesaian Sengketa." Mimbar Hukum - Fakultas Hukum Universitas Gadjah Mada 32, no. 1 (2020): 55. https://doi.org/10.22146/jmh.45145.
Inayatillah, Fafi and Abdul Muhaiminul Aziz. "Penyimpangan Tindakan Komunikatif Habermas Dalam Cerpen 'Sensasi Selebriti' Karya Sirikit Syah." Jurnal Spektrum Komunikasi 7, no. 1 (2019): 42–50. https://doi.org/10.37826/spektrum.v7i1.27.
Iwan. "Menelaah Teori Kritis Jürgen Habermas." Edueksos: Jurnal Pendidikan Sosial & Ekonomi 3, no. 2 (2016): 145–65.
Kirom, Syahrul. "Individu Komunikatif Menurut Jurgen Habermas Dalam Perspektif Filsafat Manusia." Jurnal Yaqzhan 6, no. 2 (2020).
Lubis, Akhyar Yusuf. Pemikiran Kritis Kontemporer: Dari Teori Kritis, Culture Studies, Feminisme, Postkolonial Hingga Multikulturalisme. Jakarta: Rajawali Pers, 2015.
Marbun, Rocky. "Pasivitas Fungsi Advokat Dalam Proses Pra-Adjudikasi: Membongkar Tindakan Komunikatif Instrumental Penyidik." Jurnal Hukum Samudra Keadilan 15, no. 1 (2020): 17–35. https://doi.org/10.33059/jhsk.v15i1.2190.
Mudhofir, Ali. Kamus Filsafat Barat. Yogyakarta: Pustaka Pelajar, 2001.
Nuris, Anwar. "Sekilas Tentang Pemikiran Jürgen Habermas." Jurnal Dakwah Dan Komunikasi 1, no. 1 (2016): 39–66.
Specter, Matthew G. Habermas: An Intellectual Biography. New York: Cambridge University Press, 2011.
Sutopo, Dhanny Septimawan. "Model Pemberdayaan Wanita Pada Sekolah Perempuan Desa Kota Batu Jawa Timur." Palastren. 9, no. 1 (2016): 99–118.
Suwignyo, Heri. "Tuturan Tindakan Komunikatif Subjek Diri Dalam Wacana Narasi." Bahasa Dan Seni, 2012, 153–61.
Wattimena, Reza A. A. "Berbagai Bentuk Metode Berfilsat: Sebuah Tinjauan Historis Sistematis Dari Masa Yunani Kuno Sampai Posmodernisme." In Metodologi Penelitian Filsafat. Yogyakarta: Kanisius, 2011.
Zaprulkhan. Filsafat Ilmu: Sebuah Analisis Kontemporer. Jakarta: Rajawali Pers, 2015.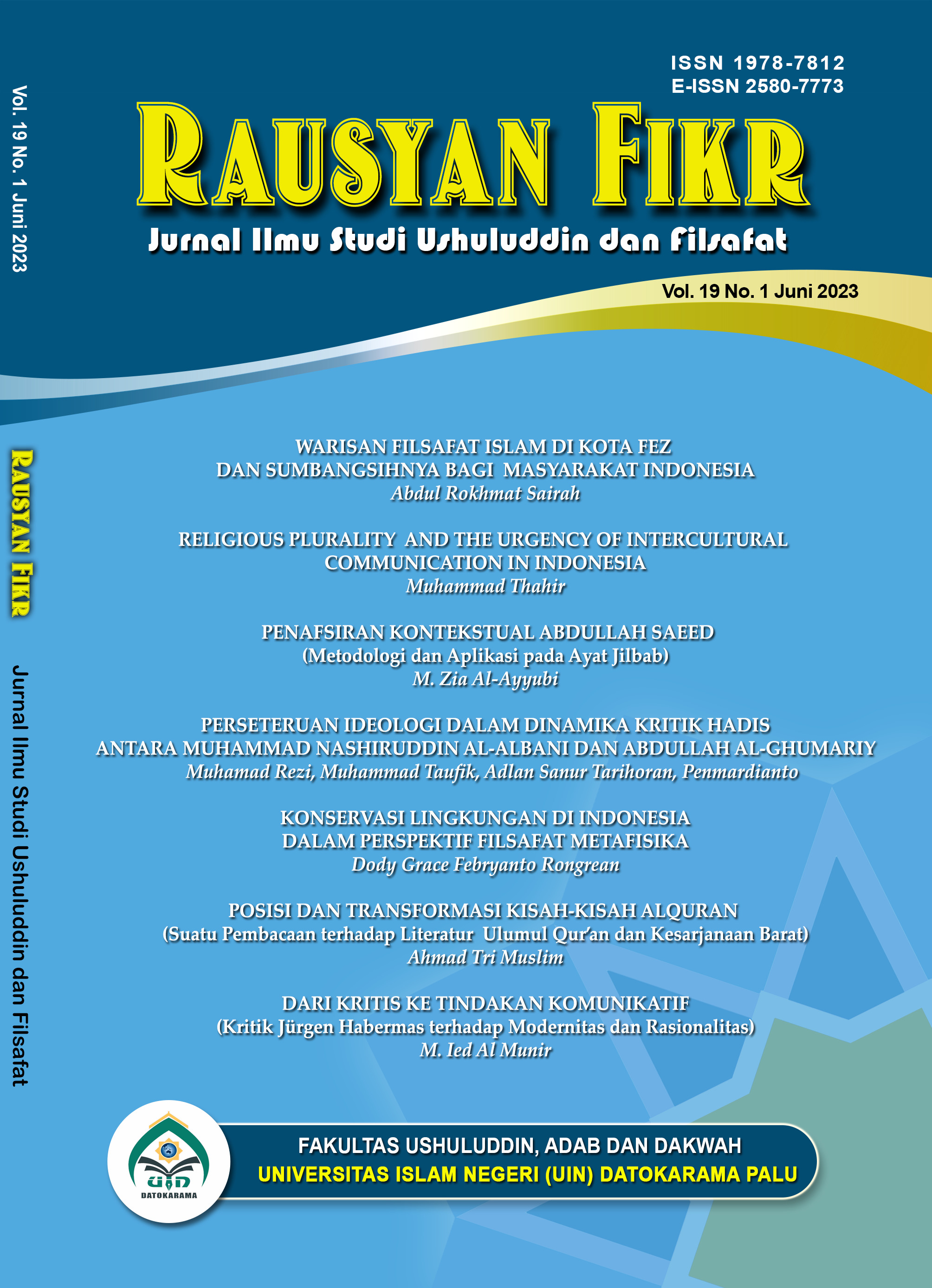 How to Cite

M. Ied Al Munir. (2023). DARI KRITIS KE TINDAKAN KOMUNIKATIF : (Kritik Jürgen Habermas terhadap Modernitas dan Rasionalitas). Rausyan Fikr: Jurnal Ilmu Studi Ushuluddin Dan Filsafat, 19(1), 157 - 179. https://doi.org/10.24239/rsy.v19i1.1320

Abstract - 110